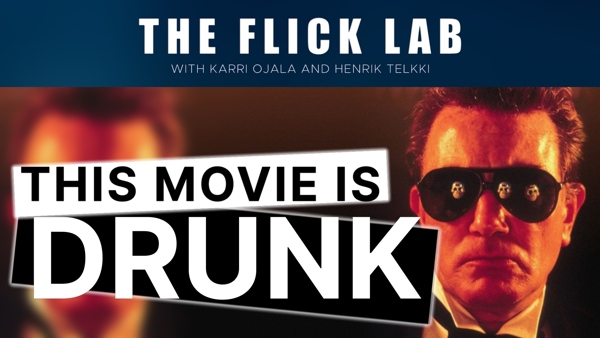 2022-11-04
Geoffrey Firmin is a British consul in Mexico in the 1930's. He is drunk. Is that it, or is there more under the hood here? Karri and Henrik look into a movie that Karri hated as a kid. Now as highly sophisticated and intelligent adults, the duo tries to find out if there's anything worthwhile to be found here. What does the film want to say and can it communicate it effectively? Is following an intoxicated man interesting? Can it be interesting? Are we to feel empathy for the character? Is it hard to feel empathy when one is three sheets to the wind, and if so, what could change that? Is the film about something else than being smashed? This is Under the Volcano, the film vs the book.

Films covered in this episode:
Under the Volcano (1984)
Directed by John Huston. Starring Albert Finney, Jacqueline Bisset🍻, Anthony Andrews, Ignacio Lopez Tarso, Katy Jurado.
Based on the original novel by Malcom Lowry.

Hosted by Karri Ojala and Henrik Telkki. Edited by Karri Ojala. The Flick Lab theme tune written and performed by Nick Grivell.
Apologies for the sound quality in this episode on Karri's side, caused by a glitch.
————
Take a listen to some other great podcasts that we mentioned in this episode:
The Elite Pod
Want to start working out but don't know where to start? Then let the trainers at Elite Fitness help guide you to be your ultimate best! Each week our trainers will give you key tips and guidance to help you on your fitness journey. Join us every Monday at the Elite Pod!

With A Gay Twist
With A Gay Twist- it's the podcast where two homos discuss the news and politics of the day, including LGBT news. From Congress to Drag Race, we've got you covered. It's news and politics, but with a gay twist.

What's This Place?
How do we shop now the world is burning? What's this place? podcast goes behind the bricks and mortar of sustainable businesses: how they do it, tricks we can all use to shop more sustainably, what sustainability even means! What is this place? Let's go inside to find out.

Capes on the Couch
We analyze the psychiatric & mental health issues of superheroes. Sometimes funny, sometimes emotional, always insightful & entertaining. We're Capes on the Couch!

Fine Time
Fine Time is a weird and snappy video game podcast! We talk about games new and old, give hot takes on industry news, and do extremely silly quiz segments in order to embarrass each other.

Funky Eskimo – thats all funny
Everyday I release a short episode of me telling awkward stories from my life or angry rants of current events.